Bruce Chatwin was 15 when he first cycled through the Vale of Ewyas, a place he would later refer to as "one of the emotional centres of his life". Wordsworth and Turner also loved this rough knuckle of mountains abutting the England-Wales border. I was 20 when I first visited, and was so smitten by the swooping hills that I leapt out of the car and ran barefoot up Hay Bluff, seized by a reckless delirium.
Two decades later I'm on a new yoga and fell walking weekend here, with Chatwin's beloved valley unfurling below. The packing list had included sun cream – but this is Wales, in winter, and the weather isn't playing ball. Rain pitter-patters on still-green leaves. Boots squelch in oily mud. Mist shrouds a seam of oaks.
"Bracken is the enemy," says this morning's guide, local author Rob Penn, as we bushwhack a path through the pernicious fern. "Nothing eats it – not even sheep!" Clambering over a stile, we enter a fenced-off area where Stump up for Trees, the charity Rob co-founded, has planted 135,000 native broadleaf saplings – the first of a million it is planting in this corner of Wales. Immediately we see signs of regeneration: oak saplings periscoping up through the bracken, young rowans ablaze with berries. "Our native tree cover is just 12% – a third of Germany's," says Rob. "We have to turn the tide."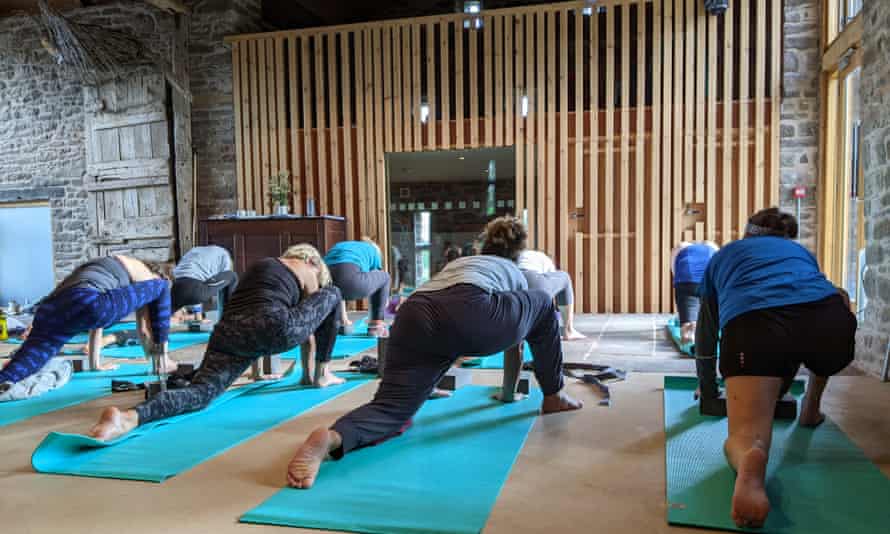 A lesson in ecology isn't what you might expect on this sort of retreat, but Ruth Pickvance, a former British fell running champion and the founder of Element Active, the company organising my weekend, wants the break to be about more than just covering the miles. "It's about the landscape, the ecology, the history of these hills," she tells us. "Connection, not calories."
Ruth, who lives locally, is on a mission to get women into the wild. "When I became British fell champion in 1989, women didn't really run – it was seen as odd," she tells me. While the winning man was presented with a North Face jacket, Ruth's prize was a set of heated hair curlers from Argos.